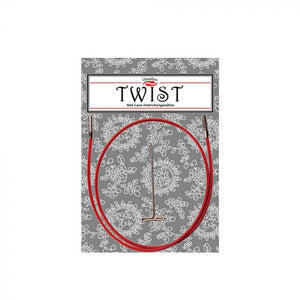 Chiaogoo Twist Red Cables
ChiaoGoo TWIST cables have been designed to connect to all ChiaoGoo interchangeable knitting needles and Tunisian crochet hook tips. Made from memory-free, multi-strand steel with a red nylon coating, they are both highly durable and flexible! For a longer cable, simply connect cables using a ChiaoGoo cable connector. On both ends of the cable see multifunctional tightening holes which can also be used for adding a lifeline! To connect tips to the cable, simply insert the included T-shaped tightening key into the tightening hole and twist. ChiaoGoo TWIST cables are available in a range of lengths with screw sizes MINI, Small and Large.
General info applicable to all ChiaoGoo interchangeables
TWIST and SPIN products share the same screw sizes, making them compatible with each other. All needle tips and cables are laser engraved with the respective screw-size:

- M = MINI, applies to needle sizes 1.50-2.50mm (5cm, 8cm, 10cm and 13cm tips)
- S = Small, applies to needle sizes 2.75-5.00mm (10cm and 13cm tips)
- L = Large, applies to needles sizes 5.50-10.00mm (10cm and 13cm tips)
The MINI range is not compatible with the standard S and L screw sizes, and thus all MINI needle tips require a MINI cable. Please note that the 10cm and 13cm-long MINI needle tips are too long for use with the 13cm or 15cm-long MINI cables. These can easily be connected by means of a MINI cable connector to extend the cable length accordingly. ChiaoGoo also offers adaptors which can connect MINI, S and L screw-sized products together.
Exception: the ChiaoGoo Shorties MINI sets contain needle tips sized 2.75-3.25mm which all share the MINI screw-size.
---
We Also Recommend
---