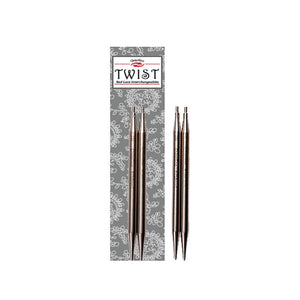 ChiaoGoo TWIST Lace interchangeable needle tips
Product Description
The TWIST Lace interchangeable knitting needles by ChiaoGoo are of incredibly quality and very versatile. They are available In 3 different lengths (8, 10 and 13cm), which makes them compatible with several TWIST or SPIN cables to create the perfect needle for your projects, ranging from thin (1.50mm) to thick (10.00mm) and from short (23cm) to long (150cm). Their versatility makes them suitable for a wide variety of (circular) knitting projects, ranging from pieces with few stitches, thin yarn or small diameter such as socks, mittens, hats or baby clothes, to projects with lots of stitches or chunky yarn, such as vests, blankets or shawls. These stainless steel needles are very pointy (lace tip), which makes them suitable for knitting patterns with multiple stitches, such as lace patterns, puff stitches, bubble and cable knitting. They are also very easy to use: the smooth surface ensures that the yarn glides off the needles effortlessly, while the matte finish will not reflect any light, which normally makes it hard to see your work. Stainless steel is hypoallergenic, meaning that it can be used by most people with a nickel allergy. Steel alloy is very strong, wear resistant, lightweight and fully recyclable. The TWIST Lace stainless steel interchangeable needle tips are available in 8, 10 and 13cm lengths and in various needle sizes. Supplied per 3 pieces.
These ChiaoGoo TWIST Lace stainless steel needle tips are 10cm long. Available in needle sizes 1.50-10.00mm. Sizes 2.75-10.00mm are hollow, so that even the thicker needles stay lightweight. Please note: Sizes 1.50-2.50mm are compatible with the MINI screw size, while sizes 2.75-5.00mm are compatible with the Small (S) screw size and sizes 5.50-10.00mm with the Large (L) screw size.
General information applicable to all ChiaoGoo interchangeables
TWIST and SPIN products share the same screw size, making them compatible with each other. All needle tips and cables are laser engraved with the respective screw size:
M = MINI, applies to needle sizes 1.50-2.50mm (10 and 13cm) and 1.50-3.25mm (8cm)
S = Small, applies to needle sizes 2.75-5.00mm (10 and 13cm) and 3.50-5.00mm (8cm)
L = Large, applies to needle sizes 5.50-10.00mm (10 and 13cm)
The MINI range is not compatible with the S and L screw size, therefore all MINI needle tips require a MINI cable. Please note that the 10cm- and 13cm-long MINI needle tips are too long for use with the 5cm-, 13cm- and 15cm-long MINI cables. They can be easily connected by means of a MINI cable connector to extend the cable length. ChiaoGoo also offers adapters which can connect MINI, S and L screw-sized products together.
Exception: the ChiaoGoo MINI SHORTIES needle tips (sizes 1.50-3.25mm) are only compatible with MINI screw-sized products.
---
We Also Recommend
---