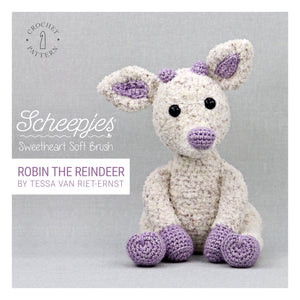 Robin the Reindeer
To celebrate the introduction of the New Sweetheart Soft Brush yarn, designer Tessa van Riet-Ernst made the crochet pattern Robin the Deer. This cuddly amigurumi of about 30 cm height is crocheted from 2 balls of Sweetheart Soft Brush and 1 ball of Scheepjes Stone Washed XL.
The first customers while quantities last to order any Sweetheart Soft Brush yarn will receive a free pattern!
Robin the Reindeer Pattern
This a cute pattern and it's easy to read. I haven't made it yet but don't anticipate any problems.
Help!
I recently bought the wool and got this great little pattern for free! I love crocheting little animals and was really excited about making this! The trouble I'm having is that the wool albeit so wonderfully soft I'm really struggling seeing the stitches to be able to count or even if I'm inserting the hook in the right spot. Is it just me??
Love this Reindeer!!
This reindeer is absolutely adorable and I can't wait to make it! In glancing at the pattern, it appears to be well written.
---
We Also Recommend
---