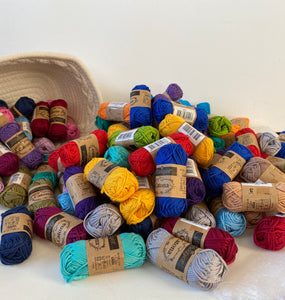 Catona Mini Bags
Random Catona 10g Mini Bag
Get an assortment of Catona Colours in bags of 10-25 and 50.  


Fun for all those little projects
Mini Bags: such a fun surprise!
I'm making Louise Crowther's knitted animals. These mini balls of Catona are perfect for small accents and accessories.
Awesome for using lots of Color's with mosaic crochet. Love these little balls!
Cute
Not sure what I'm going to do with these yet but they're so cute! Some sort of amigurami I'm sure!
Exactly what I wanted
I wanted some random colours to experience Catona without a huge commitment and enough variation to make something small. I was not disappointed. Like all Scheepjes yarn that I've worked with, Catona is soft and smooth and a joy to work with.
Catona Mini Bags
great little bag of mixed colours. perfect for making little projects
---
We Also Recommend
---