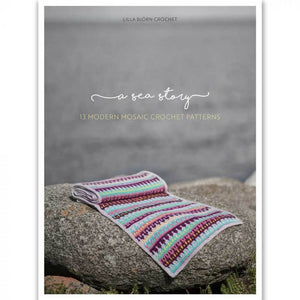 A Sea Story - Lilla Bjorn Crochet
A SEA STORY 13 MODERN MOSAIC CROCHET PATTERNS
Tatsiana Kupryianchyk is a self-taught designer who developed a love of crochet from a young age. Based in Brno in the Czech Republic, she initially studied journalism and opera singing, and went on to become a magazine editor before her passion for crochet led her to launch Lilla Björn Crochet  in 2014. She specializes in mosaic, overlay and brioche, and contributes patterns to Inside Crochet, Crochet Now and Yarn bookazine.
I am so excited for Tatsiana so much work has gone into making this beautiful collection.  Watch for a blanket I made in it!! I am so excited to see it.
A Sea Story - Lilla Bjorn Crochet
Creative
I love the variety of projects, lovely beach themed selection of colors, and the size of the book makes it fit next to my YARN bookazine too
Its a beautiful book, I can't wait to try all the patterns!
Ripping Yarns
Excellent book, I'm so glad you ship to US ! Thank you 🙏🏻
Sea Story- Lilla Bjorn Crochet
Gorgeous book! The patterns are wonderful-I'm looking forward to picking a favorite and making it in the near future.
---
We Also Recommend
---