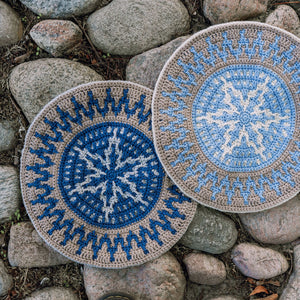 Seaweed Chair Pad
Material

Scheepjes Mighty
    Chair Pad A
          River     1
          Stone    2
          Oak       1
    Chair Pad B
          Ocean   1
          Desert   2
          Oak       1
Suggested Hook size 4mm
Measurements
Appoximately 36cm
                        14" blocked


Photo Credit Fredrik Svenningsson
Pattern designer Lilla Bjorn Crochet
A Sea Story 
Lilla Bjorn Crochet has released her first book and it is fantastic.  Full of gorgeous photos and patterns complete with charts to follow.
13 Modern Mosaic Crochet Patterns
104 pages you will want to look at over and over again.
We have put together the suggested yarn for the patterns for you into kits.  All you will need is the book and your ready to create.
Seaweed Chairpad
Its great! Easy to do. The Mighty was nice but a little rough. I will use something softer next time.
---
We Also Recommend
---