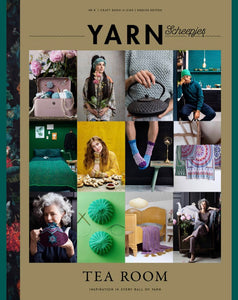 Yarn 8 Book-a-zine Tea Room
Scheepjes is proud to present YARN Bookazine 8 Tea Room! This bi-annual bookazine is overflowing with stylish patterns for you to create and be inspired by, with diverse styles and items for everyone at an affordable price.   
 
The theme for our newest issue of the YARN Bookazine is Tea Room. Having found inspiration in the tastes, colours and origins of tea, our designers created 16 exquisite patterns for a range of garments, blankets, shawls and accessories. 
From English Tea with its rich traditions and Oolong, elegant and refined just as Asia, to Ginger and Saffron with their eastern zing and lastly Matcha, the trendiest of the all, discover all that's inside as you sip a cup of tea and leaf through the pages of Tea Room. 
The patterns are in UK terms 
Quality, Customer Service
I ordered a Sea Story Book… Wow I am so impressed I don't usually order the books to start with I try a pattern or two then see if I'm interested I am not sad that I chose this book the pictures are beautiful and one day my work will look as good😊
I had ordered some needles that we're giving me a bit of a hard time they were getting caught in my wool etc. I called the girls to let them know with no questions asked they sent me the postage and told me to return them my local wool shop
Would have never treated me so kind I love the way they thank you for your purchases and they are very concerned to make sure that you get your orders the service they give is brilliant I now have my daughter hooked on their shop and she is just amazed if you've never tried them please do they are fantastic people to work with I will always choose them over anyones shops thank you for caring about us crafters so much!
Nothing but love
AM in love with your shop. You're helpful, timely, and just been fantastic to deal with. Thanks for everything.
Photos, articles, projects and instructions for crocheters and knitters.
The Scheepjes yarn books are beautiful, journal type, softcover books with great photography, lovely and interesting patterns with good instructions and some background articles. The projects include both knit (socks, fingerless mitts, beanie) and crochet (headband, tea cosy, 3 sweaters, 2 ponchos, scarf, 2 blankets, shawl, wrap, and snood). Many of the photos will provide further inspiration should one be looking it. I would like to make several of the projects at some point. For now, it's also great eye candy.
So excited to start
My order came fast and I'm excited to start my project
---
We Also Recommend
---