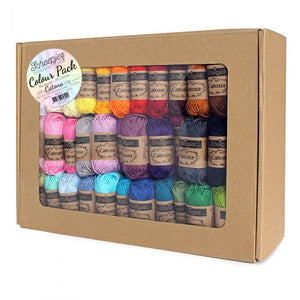 Catona Colour Pack
All 109 Colours of Catona 10g 25m each
Great quality yarn
Great colour pack. I love the Catona yarn, it has great shine and texture. I ordered this pack to try the different colours for my Amigurumi projects. Great customer service and fast delivery too!
Catona color pack
It's like having a crayon box. Got this to do amigurumi and so far working very well.
Beautiful little bundles of vibrant colour! Only one frustration; that I purchased in order to make colour swatch samples for purposes of future ordering the minis are only identified by a colour number and your website only identifies full sized Catona by colour name!
Catona Creativity
I've been eying up the Catona Colour Pack for a while. It was so worth it! Having the actual colours in my hands so I can trust what I'm choosing for projects was my #1 reason for my purchase. However, learning that all the colours are the same in Cahlista and Maxi was a delightful find. Also, I worked up all the colours into a long scarf-like swatch with the numbers embedded in pattern so I never lose the legend of colours. The fabric this yarn creates is so lovely! I loved every aspect of working with Catona including all the lovely colours.
The rest will be worked up into small projects around the house including plant hangers, amigurumi, and kitchen towels and cloths.
In love!
I purchased this colour pack because the pattern I was wanting to try required a small amount of 16 colours of yarn. This pack not only provided a full assortment of the colours I needed, but many, many more! It is a fantastic selection of colour for smaller projects or projects like mine that required a little bit of everything. Instead of having 16 large balls to manage the 10oz ball were the perfect size. I've already used a bunch more colours in other pieces and can't wait to buy more! The quality of yarn was great. I did not have any troubles with splitting. It's nice and soft and a pleasure to use.
---
We Also Recommend
---